OVERVIEW
In December of 2012, T.R.U.S.T. South LA, in collaboration with Abode Communities, initiated a participatory planning campaign for the design of the redevelopment of Rolland Curtis Gardens, a substandard 48-unit affordable housing development located in a transit-rich South Los Angeles neighborhood. Our collective goal was to implement temporary rehabilitation measures while developing a community-based plan to redevelop Rolland Curtis Gardens. Upon completion, the development will include new affordable housing units and community-serving commercial uses located near transit hubs.
This guide, developed utilizing funds granted to T.R.U.S.T. South LA by California Community Foundation, reflects our planning procedure: from outreach and organizing to developing a final site plan. In this guide we present our dynamic process, outcomes, and recommendations for adaptation. We hope this guide will be helpful for community development corporations, non-profit housing developers, community-based organizations, and socially responsible for-profit developers who want to build neighborhood-serving affordable housing and commercial developments in conjunction with local residents.
A pdf version of this guide is available here: TOD Guide and Appendix
Our reasoning behind using a participatory planning methodology for the redevelopment of Rolland Curtis Gardens is grounded in and reflective of our organizational principles. T.R.U.S.T. South LA is dedicated to collective decision- making, community ownership of land, and community-driven process. Our principles, developed by members of the organization, are summarized here:
Educate and develop the consciousness, skills, and experiences of members;
Develop leadership of youth and young adults through sharing tools and knowledge;
Create a local economy collectively that is controlled by the community;
Take responsibility to take care of the earth; 
Delegate work in an ethical and responsible manner through sharing knowledge and skills; 
Keep our minds and heart open and have flexibility to adapt to change; 
Maintain transparency of communication and access to information; 
Include all people, regardless of gender, race, class, sexual orientation, nation of origin, immigration status, physical ability, religious and spiritual beliefs, etc. 
Create a structure in which we can make collective decisions.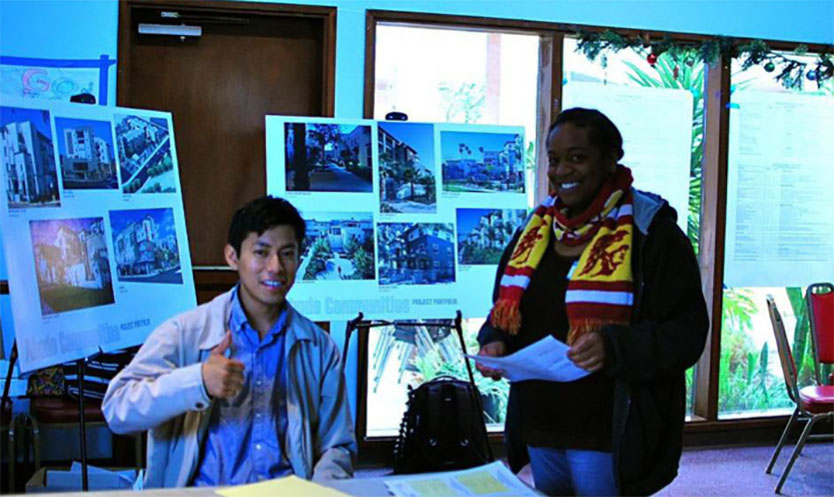 Context
The redevelopment process of Rolland Curtis Gardens exists within a context of high-cost housing, unparalleled investment in transit infrastructure, and concentrating new development near transit corridors throughout Los Angeles. This context demonstrates the importance of the redevelopment of Rolland Curtis Gardens as a means to preserve affordable housing with convenient access to public transportation. Preserving transportation access for Rolland Curtis Garden residents or low-income residents and renters to job centers, local amenities, and cultural activities enhances the economic vitality of low and moderate- income communities.
In terms of affordability, two unique dynamics are at play: rent burden and loss of rent restricted affordable units. Families in Los Angeles spend more of their income on housing than families in most other large cities in the U.S. Using the rent burden standard, which names housing as affordable if the rent or mortgage requires less than 30% of a household's income, three fourths of low-income homeowners and 90% of all low-income renters are rent burdened.1 With low-income families spending a significant amount of their income on rent, these families struggle to meet their spending needs on other essential household expenses like healthy food, education, and healthcare.
Working families are also impacted by the affordability crisis: 40% of working households are extremely rent-burdened, spending more than 50% of their income on housing costs.2 The disproportionately high number of rent burdened low and moderate- income households demonstrates the extreme deficit of and need for new affordable homes in Los Angeles.
A second crisis looms with the great number of expiring affordability covenants throughout the City.3 Nearly 15,000 income-restricted units (out of 831,000 total renter occupied units in the City of Los Angeles) have affordability covenants, rental assistance contracts, mortgages, or other time-limited affordability requirements that will expire or are at risk of being terminated between 2012 and 2017.4,5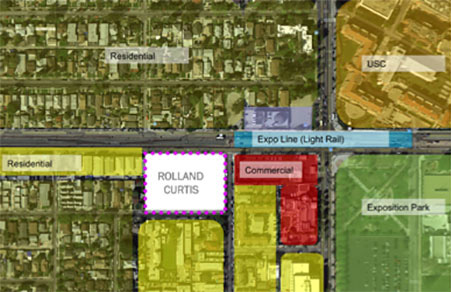 Given that landlords throughout Los Angeles will and have chosen to increase rents near or at market rate as the rent restrictions on their buildings expire, the loss of these units could potentially force over 15,000 families out of their homes. Additionally, about 40% of the City's 15,000 units with expiring rental restrictions are within half mile of light rail or bus rapid transit (BRT) stations, further jeopardizing low- and moderate-income families' access to transit and jobs.
With regard to transportation infrastructure expansion, Metro (the Los Angeles Countywide transit agency) is undertaking an unprecedented investment in transit infrastructure with the hope of transforming Los Angeles into a transit-oriented city. Through Measure R, a countywide voter approved sales-tax increase, Metro will invest $40 billion dollars to add 42 new rail stations by 2039. Los Angeles is ready to make the most of this investment by focusing high-density rezoning around new transit stops with a goal to increase population density and stimulate commercial uses as well. Due to the increased demand for housing near transit in Los Angeles, rents are high and incentives for developers to construct affordable housing near transit are limited. The lack of affordability contradicts the multitude of studies and reports that show the importance of preserving and building new affordable housing near transit to guarantee transit use and ensure job accessibility for transit-dependent populations.5
As a property threatened by an expiring affordability covenant, in a neighborhood with fierce real estate speculation, located adjacent to a new light-rail station, the history of Rolland Curtis Gardens directly reflects the building tensions in Los Angeles around Transit Oriented Development (TOD). Rolland Curtis is also a compelling illustration of what should and needs to occur in order to preserve and produce quality housing in Los Angeles at key TOD locations through tenant involvement. The members of T.R.U.S.T. South LA with the expertise of Abode Communities, successfully organized a campaign to preserve the apartment building and configured the private financing solutions necessary to save the land despite the startling absence of public policy to accomplish the same. Through a participatory process to plan for its rebuild, tenants and neighbors of Rolland Curtis defined a vision for permanently affordable housing. From the purchase of the site to planning the new Rolland Curtis, we have collectively surpassed all expectations for transit-oriented development in Los Angeles.
Through our Expo/Vermont Neighbors Organizing Committee, composed of local residents and T.R.U.S.T. South LA members, we will continue to build the capacity of community members to be involved in TOD policy work – both in the ongoing process of the Rolland Curtis Gardens development, and as it relates to South Los Angeles' public and active transportation infrastructure resources and needs.
An early forerunner to what will become the new "Transit Oriented Los Angeles," T.R.U.S.T. South LA, along with our partner Abode Communities, have an opportunity to demonstrate the implementation of a cutting edge TOD model. We aim to craft programs that other affordable housing developers (as well as mixed- income and even market-rate developers) can adopt or tailor as our City seeks to efficiently increase density in transit-rich areas. Transit Oriented Development in Los Angeles poses specific physical and cultural challenges that San Francisco and New York – which are already dense and pedestrian-focused – do not face. We anticipate that our story will prove useful to many cities and towns across the country: if car-centric LA succeeds in not only creating TOD policy and infrastructure, but also building tools and community educational processes to get residents out of their cars and on to buses, trains, bikes and their feet, think of the possibilities for other cities and neighborhoods.
1 California Budget Project. (2008). Locked Out 2008: A Profile of California Counties. Sacramento, CA. Retrieved from: http://www.cbp.org/pdfs/2008/080213_CountyProfiles.pdf
2 Wardrip, K. (2012). An Annual Look at the Housing Affordability Challenges of America's Working Households. Housing Landscape 2012. Center for Housing g Policy, Washington, D.C. Retrieved from: http://www.nhc.org/media/files/Landscape2012.pdf
3 A covenant obligates an owner to designate a specified number and type of dwelling units for occupancy by low income households, usually for a term of 30 years and runs with the land, binding all current and future owners of the site. Source: Los Angeles Housing and Community Investment Department: Affordable Housing Land Use Covenants (October 2011)
4 US Census. 2011 ACS 1-year estimates.
5 http://www.reconnectingamerica.org/assets/PDFs/20120524LAHDTODPreservationFinal.pdf
5 Two HUD Studies here: http://www.huduser.org/publications/pdf/better_coordination.pdf, http://www.newportpartnersllc.com/PDFs/NewportPublications/Paper3_PromotingAffordableHousingNearPublicTransit.pdf Report detailing the effects of gentrification at TOD on Ridership: http://www.thestrategycenter.org/sites/www.thestrategycenter.org/files/Dominie_Is_Just_Growth_Smarter_Growth_6-2-2012.pdf
History
Rolland Curtis Gardens was built in 1981 with funding from the U.S. Department of Housing and Urban Development (HUD). With the purpose of providing affordable housing to low-income individuals and families in South Los Angeles. In 2003, ownership of the property was transferred from Wisconsin Gardens Development Co. to the Union Rescue Mission- a private, Christian homeless shelter- which subsequently sold it to billionaire absentee landlord, Jeffrey Greene, in 2004. Upon purchase, Mr. Greene opted out of the HUD Project Based Section 8 program, despite having indicated otherwise during the sales negotiations. However, until January of 2011, Rolland Curtis Gardens was protected from conversion to market rents thanks to an enforceable affordable covenant signed in 1981 between the Community Redevelopment Agency of the City of Los Angeles ("CRA/LA") and Wisconsin Gardens Development Co. As the January 2011 date for expiration of the final covenants approached, Mr. Greene informed tenants through his property managers that he no longer wished to have this property as affordable housing, and instead intended to rent to the student population of the adjacent University of Southern California (USC).
Campaign Victories
Starting in the spring of 2011, T.R.U.S.T. South LA worked in conjunction with the tenants of Rolland Curtis Gardens to ensure that the property remain affordable to current and future families. When Mr. Greene attempted to displace all families from the building with the stated aim of moving in USC students, T.R.U.S.T. South LA responded by organizing with the tenants in a tenant-led campaign to preserve their affordable housing.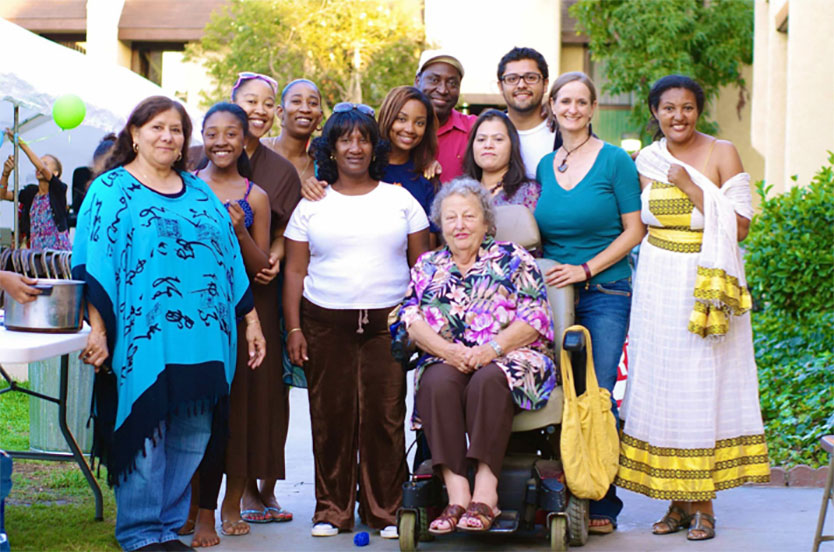 The campaign's first success occurred in August 2011, with the support of the Legal Aid Foundation of Los Angeles (LAFLA) when Mr. Greene was forced to rescind the 90-day notices to vacate, which he had issued to all families living at Rolland Curtis Gardens. Mr. Greene was required to provide proper notice of the owner's intentions to convert the complex to market rent. This effort secured the right of all tenants to remain in the property until September 2012, and for a group of a dozen low-income tenant families to remain in the property for as long as Rolland Curtis Gardens continues to operate as rental housing. In October and November of 2011, the campaign accomplished a second victory when the Los Angeles Housing and Community Investment Department ordered over 300 repairs to the property. Campaign efforts then focused on long-term preservation of Rolland Curtis Gardens housing as affordable.
In the winter of 2012, T.R.U.S.T. South LA's development partner, Abode Communities, offered to purchase Rolland Curtis Gardens from Mr. Greene. After the preceding year of tenacious organizing work by T.R.U.S.T. South LA and the Rolland Curtis tenants, the owner agreed to sell. After several months of being in and out of escrow, Abode Communities and T.R.U.S.T. South LA secured over $7 million in loans and on July 27th, 2012 became the joint owners of Rolland Curtis Gardens. The acquisition financing, in place for a maximum of five years, provides for some rehabilitation of the existing 48 units, so that the families are no longer living in sub-standard conditions.
Directly after the acquisition, the new development team, came to the conclusion that the complex would need to be demolished and rebuilt with the help of government subsidies adding more affordable rental units, open space, and commercial space to create a higher density development. Preparations for our four-month long participatory planning process included:
Setting internal goals and priorities for the planning process 
Researching best practices for curriculum for participatory planning and design as well as general Transit Oriented Development (TOD) industry standards and innovations 
Defining and engaging stakeholders
The following chapter will help you set up your own participatory planning process by sharing our experience preparing for and running workshops with neighbors, tenants, and local stakeholders.